Main content starts here, tab to start navigating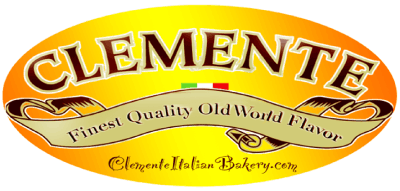 Clemente Bakery is family owned and operated since 1974. Finest quality and old-world flavor is our family foundation. All baking & cooking are done on premise.
Tuesday - Friday: 7 am - 4 pm
Saturday: 8 am - 3 pm
Sunday: 8 am - 1 pm
Gift Baskets & Gift Certificates Available
Hot and Cold Catering for all Occasions
Hot Specials Tuesday to Friday
Baked Fresh Daily
Brick Oven Italian Artisan Bread
The Original Focaccia Barese
Sausage Bread, Zeppole
Original Taralli and Milk Biscotti
Pasta Platters
Small feeds 10 to 12 - Large feeds 20 to 25
Baked Ziti

Lasagna

Ravioli

Baked Manicotti

Linguine alla Puttanesca

Tortellini alla Panna

Stuffed Shells

Penne in Vodka Sauce

Spaghetti Aglio & Olio

Rigatoni Allo Chef

Risotto Alla Primavera
Risotto with Mushrooms

Risotto Alla Milanese

Rigatoni in Sausage Meat Sauce

Linguine in Red or White Clam Sauce

Orecchiette with Broccoli di Rape

Risotto Alla Pescatore

Risotto with Asparagus
On the Side
Small feeds 10 to 12 - Large feeds 20 to 25
Potato Croquettes

Chef Salad

Mozzarella Caprese

Fried Rice

Tortellini Salad

Pasta al Pesto

Pasta alla Crudaiola

Pasta Primavera

Franks in Jackets

Mesclun Salad

Potato or Mac Salad

Baked Zucchini
String Bean Salad

Fresh Tossed Salad

Mozzarella in Carrozza

Mozzarella Sticks

Wings & Chicken Fingers

Chicken Caesar Salad

Focaccia Platters

Grilled Portobello Mushrooms

Bocconcini

Plain or Marinated

Stuffed Mushrooms

Rice Balls

Escarole in Garlic & Olive Oil

Broccoli di Rabe in Garlic & Olive Oil
Entree Platters
Small feeds 10 to 12 - Large feeds 20 to 25
Eggplant Parmigiana

Eggplant Rollatini

Sausage & Peppers

Pepper Steak

Chicken Parmigiana

Chicken Marsala

Chicken Cacciatore

Chicken Francese

Chicken Cordon Bleu

Tripe with Sauce

Meatballs Parmigiana

B.B.Q. Ribs

Roast Pork with Mushrooms
Turkey Breast with Gravy

Roast Beef with Gravy

Veal Scaloppine*

Veal Parmigiana*

Veal with Peppers*

Chicken & Broccoli with White Rice

Grilled Chicken Teriyaki Kebobs

Beef Braciole

Steak Pizzaiola

*All Veal Platters

*AIl Beef Platters
Platters
Small feeds 8 to 10 - Large feeds 15 to 18
Italian Style
An assortment of the following:

Thumanns Ham

Hot & Sweet Dry Sausage

Hot Capicolla

Mixed Olives

Italian Cheeses

Mortadella

Prosciutto

Genoa Salami
American Style
An assortment of the following:

Roasted Turkey

Thumanns Ham

Roast Beef

Muenster Cheese

American Yellow Cheese

Swiss Cheese

Mild Provolone

Hot Dry Sausage

Pepperoni

Genoa Salami

Bologna

Mixed Olives
Salad Platters
An assortment of the following:

Giardiniera

Roasted Peppers

Marinated Mushrooms

Sundried Tomatoes

Mixed Olives

Marinated Artichokes

Marinated Eggplant

Stuffed Hot Peppers

With prosciutto & provolone
Fish Platters
Small feeds 10 to 12 - Large feeds 20 to 25
Calamari Marinara

Fish Filet of Sole

Fried Calamari

Fried Shrimp Scampi

Calamari

With Hot or Sweet Sauce

Smoked Salmon Platter

Mixed Seafood Salad

Crab Cakes
Heros
For parties of any occasion....
We have our special hero breads 2 to 5 feet long
Baked fresh daily in a variety of shapes, numbers & letters
Our Hero Sandwiches start at:

2'

3'

4'

5'

Customize the sandwich to your taste and occasion!

We have our Italian Brick Oven baked dinner rolls, wraps or Barese Focaccia stuffed with Prime Quality Cold Cuts.
Dessert
Small feeds 8 to 10 - Large feeds 20 to 25
Tiramisu' or Ricotta Cheesecake

New York Style Cheesecake

Fruit Platter

Assorted Miniature Italian Pastries Platter